Recital, Regina Musical Club
"A celebrated Saskatchewan poet's words have been adapted by a Regina native for classical voice and will comprise the English portion of a performance spanning six different languages.
The program's segment in English is based on the poetry of John V. Hicks. He was a poet in Prince Albert who garnered national acclaim, the Saskatchewan Order of Merit and an Honorary Doctorate in Literature from the University of Saskatchewan. Hicks died in 1999.
The adaptation composed by locally raised Peter Tiefenbach will spring to life through his piano work and the voice of soprano Allison Arends — like Tiefenbach, a Regina native who moved on.
"Some pianists get kind of upset to be called an accompanist. I'm not really one of those, but I always think of it as more of a collaboration. You can't have one without the other," quipped Tiefenbach.
His adaptation, which incorporates trumpet being provided by the Regina Symphony's Miles Newman, is part of a globe-spanning program featuring singer Arends.
She attended high school in Regina at Campbell Collegiate and studied in its choirs and with a private voice teacher, meanwhile often singing in the choir at her family's church.
After graduating music programs at University of Victoria and University of Toronto, Arends has spent the past 12 years in Toronto building a career as an opera singer, music teacher, adjudicator, and examiner for the Royal Conservatory of Music.
Her bio includes fresh work largely in Ontario, but also 2015 appearances in Regina with this city's Philharmonic Chorus and its Symphony Orchestra.
As for Tiefenbach, he has been a member of the faculty of the Glenn Gould School of the Royal Conservatory of Music since 1997. In addition to serving as music director for the school's fall opera productions, he coaches singers working on diplomas in the categories of Artist and Performance.
For the program in Regina, Arends will put to good use her years of study in a variety of languages — training that as a classical singer "is such a huge component of what we do."
Her studies included time abroad in Italy, Germany, Austria and Spanish-speaking South America. And a friend has guided her understanding of Russian.
"The Russian is really the new one for me," Arends said. "So that's been the biggest and the newest challenge, but I absolutely love the Russian repertoire.
"And I grew up as a kid hearing the Russian piano concertos … it was one of my grandfather's favourites … so I've been wanting to delve into the songs for a long time and I find if I don't program it, then I frequently don't do it."
According to Tiefenbach, comfort with the Russian language is rare among singers whose first language is English.
It takes a keen memory to pull off such a linguistically diverse program, according to Arends.
"Memorize," she said."
La Traviata, Southern Ontario Lyric Opera (SOLO)
"Allison Arends's "Amami Alfredo" was heartbreakingly beautiful, her pure tone and empathetic acting breathing new life into the familiar character of Violetta."
La Traviata, Southern Ontario Lyric Opera (SOLO)
"Allison Arends has a great voice for the role of Violetta, and also the personality to play her many sides. Allison is a warm and engaging presence on stage (and off) and brings a great depth to the role."
Carmina Burana, Regina Symphony Orchestra
"Also singing during Carmina Burana, baritone Peter Alexander, tenor Paul Williamson, and Regina product Allison Cecilia Arends performing soprano, the three featured vocalists were very moving… Arends had a voice as vibrant as her stunning red gown."
Lucia di Lammermoor, Opera York
"…the singers were the stars. And in this case, they truly were. Especially Allison Cecilia Arends as Lucia stole the show with her impeccable soprano. Clear and expressive she rose to all heights with ease as though she was speaking and not singing. Her mad scene would stand out at the MET or any other great stage. "World class" was the comment from the orchestra pit, and they know. They play all sorts of venues and have heard it all."
Lucia di Lammermoor, Opera By Request
"In the title role, soprano Allison Cecilia Arends had liquid-like coloratura, and plenty of different colours in her voice. She has a stronger sound than you might imagine when you think of a Lucia, but I liked her metallic quality and the bit of heft in her sound. She had beautiful moments of soft singing as well, and really warm low register. I think Lucia is a new role for Allison, and it's a good one. She did that endless version of the Mad Scene cadenza with flautist Vicki Blechta, and she definitely had some chops to show off."
A Night in Vienna, Toronto Concert Opera
"The church was packed with an audience eager to take in A Night in Vienna, a performance by Conductor, Kerry Stratton and the Toronto Concert Orchestra, along with Soprano, Allison Cecilia Arends… Arends is well known in the Canadian music scene for her versatile and beautiful voice… [Allison] sang with power and sensitivity and poise, bringing to life the characters [she was] portraying in [her] songs."
Women's Musical Club of Winnipeg Recital
"The 2011-12 season of the Women's Musical Club began on Sunday, Oct. 16th with a performance by coloratura soprano Allison Cecilia Arends. Accompanied by pianist Rachel Andrist, Arends opened the program with the aria "Dunque i lacci d'un volto… Ah, crudel!" from Handel's opera Rinaldo. Captivating the audience with a voice as beautiful and stunning as her fresh-faced looks and pale blonde hair, both elegantly offset by her cornflower-blue gown, Arends fully embodied the piece's multifaceted emotions. In her rendition of the aria, sung by Queen Armida, Arends was a riveting sight, crying out in anger one moment and in vulnerability the next. The aria set an exceptional standard for the afternoon's program, a standard that remained constant throughout Arends' compelling and evocative performance.
Taking to the podium after a dramatic interpretation of "Da tempeste" from Giulio Cesare – also by Handel – Arends proved an affable host, noting that, as "prairie girls," both she and Andrist were thrilled to be back in Western Canada. She further explained that the concert's intended theme was "queens, martyrs and forsaken women"; appropriately, the pieces selected dealt with the struggle of women to comprehend their deep emotions and rise above the oft-oppressive nature of their intricate relationships. Arends' interludes were a welcome addition to the concert: not only did they allow patrons breathing space between what were often emotionally involving pieces, they provided useful contextualization for works that, despite the handy translations included in the programme, still benefited from her charming commentary.
Rounding out the first half of the program were Schumann's Mignon Lieder, Op. 98a, the story of a girl kidnapped by a circus troupe and caught in an unceasing conflict between earthly life and eternal salvation, and "Regnava nel silenzio" from Donizetti's famous opera Lucia di Lammermoor. The artist skillfully captured the inner turmoil of Schumann's Mignon, but it was her performance as Lucia that truly astonished, ending on a note so pure and expressive that it left all those attending breathless.
The piece de resistance of the afternoon was "A vos jeux, mes amis… Pale et blonde" from Ambroise Thomas' opera Hamlet, in which Arends transformed herself into young Ophelia. Inspiring much awe with her masterful use of staccato to convey the young girl's anguish, Arends impressed with the visceral intensity of her final notes. Arends and Andrist left the stage amid rapturous applause and calls for an encore, requests the duo fulfilled with a performance of the Canadian folk song "She's Like the Swallow," with an arrangement by Winnipeg's John Greer that brought a touching and heartfelt end to the afternoon."
The Wealthy-Looking Woman in "The Inventor", Calgary Opera
"Smaller parts were capably handled by sopranos Erin Armstrong and Allison Cecilia Arends, mezzo-sopranos Jennifer Sproule and Cassandra Warner, tenors Adam Fisher and Martin Sadd, baritones Brent Calis and Vasil Garvanliev, and members of the Cantaré Children's Choir."
Musetta in "La Bohème", Highlands Opera Studio
"Both casts had strong singers who blended well to create memorable vocal and dramatic ensembles… Allison Arends delivered [a] vocally strong and sexually charged performance as Musetta."
Adele in "Die Fledermaus", Highlands Opera Studio
"Soprano Allison Arends' Adele charmed listeners with her lyrical upper tones."
Orchestral Gala with Cathedral Bluffs Symphony Orchestra
"…it was a treat to work with the young coloratura soprano Allison Arends. If you ever need anyone to nail either of the Queen of the Night arias, she's your girl. It is so nice to understand that there are very gracious people in the singing world. One thing that I am not enamored of is a diva in the worst sense of the word. I believe in collegial work. It was so relaxing working with Allison because of her musicianship and her intent on working together with CBSO and myself."
Adina in "L'elisir d'amore", UofT Opera School
"The very pretty Allison Arends (Adina) displayed a flexible lyric soprano with a very attractive, watery quality at the top, nice phrasing and precise coloratura. She, too, can hold notes and hints at the power to come. Hers is the type of clear sound that draws in the listener."
Bach's "St. John Passion", Capriccio Vocal Ensemble
"I much preferred the lyric soprano of the young recent UVic graduate Allison Arends in the St. John Passion. Allison never lost sight of the fact that in Bach's Passions, the musicians are telling a story."
"Arends is a recent UVic graduate. Possessed of a pleasant lyric soprano voice, she has excellent diction and a good German. She is definitely a singer worth watching."
Bach's "Cantata 209", Victoria Chamber Orchestra
"After a brisk instrumental sinfonia, the soprano soloist enters with a recitative which might be synopsized as 'parting is such sweet sorrow'; Allison Cecilia Arends has a fine voice and she handled it exceptionally well throughout both recitatives and their succeeding arias. … the soloists were both first-rate: … and that dialogue between [Lanny Pollet on flute] and Arends … was quite lovely."
Guest soloist, Saskatoon Symphony
"… soprano Allison Arends made her way onto the stage to perform selections from The Marriage of Figaro and The Magic Flute, by Wolfgang Amadeus Mozart, and selections from Rigoletto, by Giuseppe Verdi.
Arends, who started vocal studies at age 10, sounded absolutely amazing on Saturday night. Wearing a sparkling blue gown, she mesmerized the audience with her clear, strong voice. Arends recently studied at the Franz-Schubert Institute outside Vienna and has incredible control of her voice, hitting high notes effortlessly… Her powerful voice filled the auditorium. Arends was not only a pleasure to listen to, but also a pleasure to watch; throughout her performance, she seemed to get into character displaying emotion on her face. It was obvious that music is her passion. The audience certainly took note of Arends' great performance shouting 'Bravo, Bravo' when she finished singing and rising for a standing ovation."
Vivaldi's "Gloria", Victoria Choral Society
"Vivaldi's Gloria also received a spirited and lively performance. The choral's sound was weighty when required, lithe and lively when that was appropriate. The performance was enlivened by fine solo (and duet) singing from Allison Arends and Erinn Roberts…"
Featured Articles
Featured on front page of THE BULLETIN – Toronto's downtown magazine. June 2010.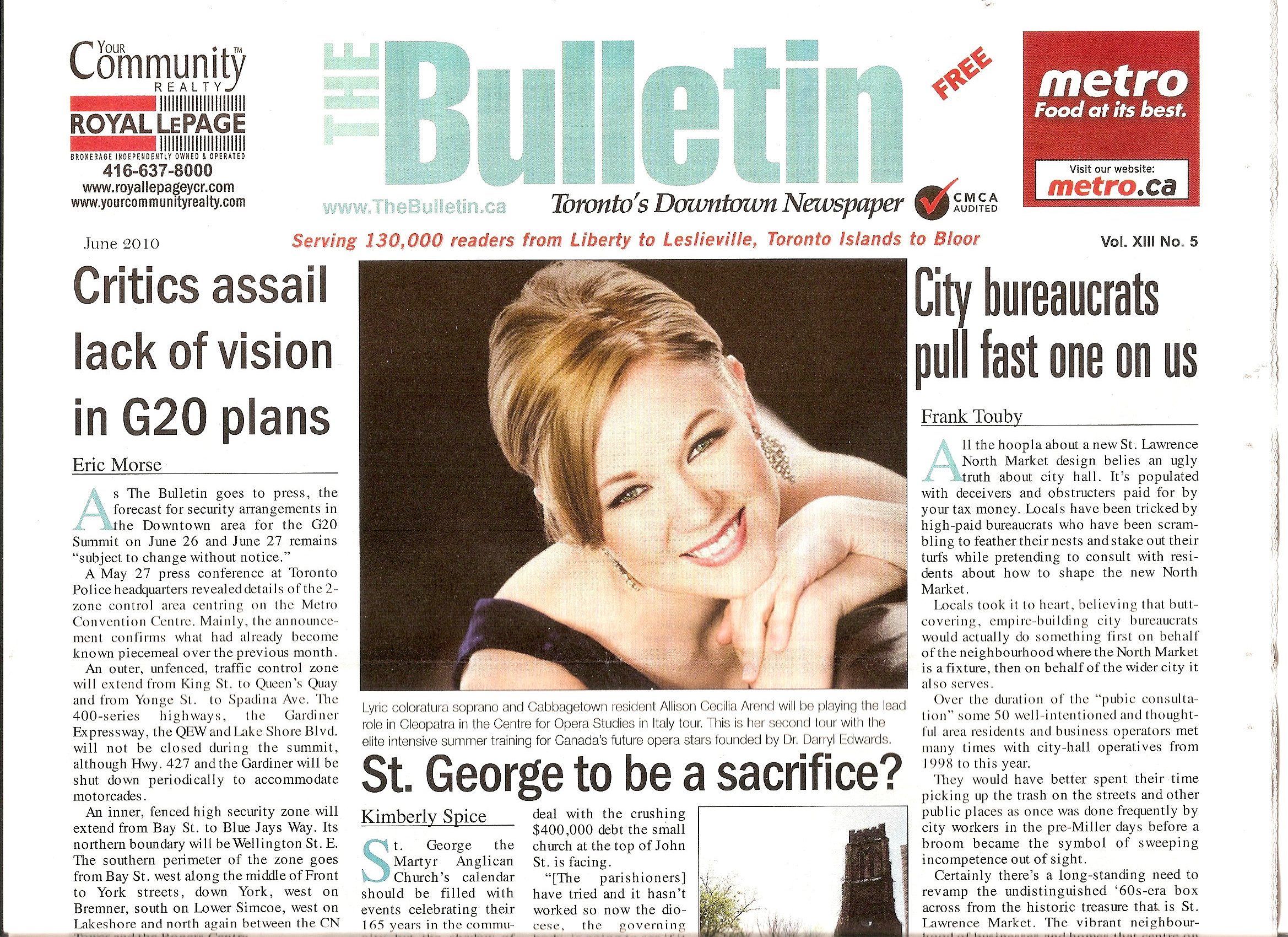 Excerpt from REGINA LEADER POST: What's On
CLOSE FRIENDS SET TO SHINE
It will be a homecoming of sorts for three Saskatchewan musicians as they take the stage at Westminster United Church on Friday night.
Raised in Regina, opera singers Allison Arends and Alicia Woynarski will be accompanied by pianist – and Estevan native – Rachel Andrist.
All three performers have found worldwide acclaim for their talents.
The Operatic Exports, as they are called, will be performing operatic arias and duets as well as other songs. Works will include favourites by composers such as Mozart and Johann Strauss and pieces by well-known local composers like Elizabeth Raum and Robert Ursan.
Organized by local music aficionados Diana Woolrich and her husband Robin Swales, the concert luckily came together despite co-ordinating three busy international schedules.
"It was all really serendipity because it all really came together," said Woolrich, who, as a private voice teacher, taught both Arends and Woynarski…
Woolrich explained soprano Arends and mezzo-soprano Woynarski have very different voices. While Arends' voice features "really fast and really high notes…," Woynarski has a "richer, lower voice…"
"They're going to make a wonderful partnership," said Woolrich.
She added that Andrist, who currently lives in Europe, will further enhance the partnership.
"She's played and prepared music in some of the finest opera houses in the world. And so her experience is really going to shine through in this concert," Woolrich said.
Arends – who completed her undergraduate degree at the University of Victoria and her master's degree at the University of Toronto – currently lives in Toronto and works around the world as a freelance opera singer as well as runs a private voice studio.
"It's always great to come home because Regina has such a strong support system," Arends said in a recent phone interview from Toronto, whereas it's easy to "get lost" in bigger cities like Toronto.
Arends is looking forward to performing with Woynarski because they have known each other since about Grade 8 when they both studied under Woolrich.
"We stayed in really close touch over the years and remained really close friends," said Arends.
She added that she hasn't performed with Woynarski in years.
"I'm really looking forward to the duets, especially."
Although it's difficult to make it as an opera singer, it's worth it, said Arends.
Woolrich always hopes what she teaches students will stay with them, even though most students do not become professional singers.
"It's a difficult living to make, but these people have great passion and commitment and just a very strong desire to be on stage communicating with people. So to see them realize their dreams is very gratifying," she said.
Audiences are going to love the concert, Woolrich added.
"These are two young, gorgeous professionals making their way in the world," she said.
"They are very glamorous, they're very alive on stage and they're singing absolutely gorgeous music – what's not to love?"
Excerpt from WholeNote Cover Story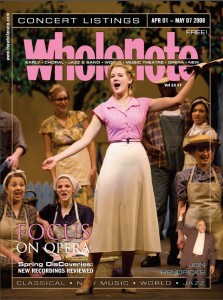 "So, meet the people in this month's cover photo! It is by Richard Lu (Richard and Hugh Photo Services) from last year's November 8-11 University of Toronto Faculty of Music Opera Division student production of Donizetti's L'elisir d'amore, conducted by Sandra Horst and directed by Michael Patrick Albano. Pictured are (left to right) Aviva Wilks, Sarah Parkin (front), Katarzyna Sadej (as Gianetta), Allison Arends (as Adina), Ryan Allen, Mia Harris (rear), and Nadine Guertin.
We didn't recognize any of the performers by sight when we chose the photo. But on being told who they were (thank you, Aaron Wong) Allison Arends' (she's in the pink and white) name rang a bell. A quick dig through our own concert listings, past and present, told why. There she was last November 19, part of the Aldeburgh Connection's Discoveries Series – Allison Arends, soprano; Kathleen Promane, mezzo; Bruce Ubukata, piano. In March of this year she sang the role Ginevra in Handel's Ariodante presented by the Opera Division of the Faculty of Music at U. of T. And, yes, there she is again – not in the past, but upcoming: a recital, April 10 at 8 pm, for the Toronto Wagner Society.
The cover's story started to unfurl.
Every year the Toronto Wagner Society presents a scholarship to a student in the UofT Opera Program, as recommended by the school's faculty. (Past winners? – well Adrianne Pieczonka for one, Joni Henson for another, so someone knows how to pick-em!) And each year, for the Society's closing meeting of the year, it hosts a vocal recital by its scholarship winner.
'The Wagner scholarship went towards tuition for this year, and I get to do a recital for them in a couple of weeks' said Allison when we reached her by phone. 'The repertoire will include Strauss (Richard), Debussy, some opera arias. … I graduate in a couple of months. Then I am going on a choir tour in Italy with Eglinton St. George's United Church, where I am a section lead – a two-week tour. I've been accepted into the International Vocal Arts Institute in Tel Aviv, and also the Queen of Puddings summer program right here. I haven't decided. … I feel like, at this stage, I am not just making educational decisions, but am also making career decisions…'.
Doubtless a conversation to be continued (but how delightful to have started it, albeit by happenstance, right here.)"
Excerpt from HNATYSHYN FOUNDATION PRESS RELEASE July 18, 2007
"The graduate grant for classical vocal performance will be awarded to 24 year old soprano Allison Cecilia Arends of Regina who is pursuing a Master of Music degree in Opera Performance at the University of Toronto under the tutelage of Mary Morrison. … According to Darryl Edwards, Head of Voice studies at the University of Toronto, 'Allison has distinguished herself with the sterling clarity, exquisite flexibility, stratospheric quality, and the compelling beauty of her singing. She is tireless in treading the pathways to her personal excellence.' The Hnatyshyn Foundation classical voice jury, consisting of Nancy Hermiston, Daniel Lichti and Helen Fortin, judged Allison to be a young singer of great potential. 'The voice is stunningly beautiful and she uses it with intelligence and great sensitivity. This is singing of a high order from a young artist.'"
Excerpt from VICTORIA TIMES COLONIST: Classical Notes
"There is more Schubert on offer on Wednesday evening in a recital by duo Allison Arends, soprano and Christina Wright, piano.
The two have been performing as a duo at UVic for the last year or so and recently won the prestigious Johann Strauss Scholarship, which will enable them to study this summer at the Franz-Schubert Institute in Baden bei Wien, Austria, where the faculty includes such luminaries of the lieder world as Emmy Ameling and Rudolf Jansen.
Not only are Arends and Wright attending the Institute as a duo team rather than as two individuals, they will be the youngest duo there and also the only Canadians."